Over the past few years I've been concentrating more and more on writing assignments and have really enjoyed that part of my work. Well the new year is now truly underway and I'm happy to say that this will be even more of my focus, and it fits very well with my branding work. All great brands are defined by their stories. Stories that set the brand in human terms, that people can relate to. I've also just published a book on the branding of city destinations called
Wish You Were Here,
The Branding of Stockholm and Destinations. It covers the key elements in developing a successful destination branding programme and gives an insight into the branding of Stockholm The Capital of Scandinavia. The book looks at examples from around the world, such as New York, Liverpool, Barcelona, The Ice Hotel, Hollywood and more, and examines the similarities with the branding of consumer products as well as the major differences and challenges.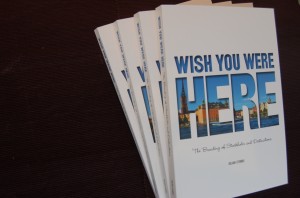 The book is for anyone who enjoys cities, branding or both. It's a journey through the branding of destinations written to be both informative and hopefully enjoyable. The book will be available on Amazon shortly and in good bookstores.
UP*date
Wish You Were Here is already available in Sweden through an online bookstore called Firmaboken, details below. As of January 21st we've sold nearly 700 copies already, so we'll be printing the second impression shortly. http://www.firmaboken.se/art-1.asp?id=3169
Cheap Windows 7 Ultimate
Discount
Buy Windows 7 Ultimate
Buy Windows 7 Ultimate
Order Adobe Creative Suite 6 Master Collection
Sale Adobe Creative Suite 6 Master Collection
Sale Adobe Creative Suite 6 Master Collection
Order Microsoft Office 2010 Professional Plus
Buy Microsoft Office 2010 Professional Plus
Order Microsoft Office 2010 Professional Plus