It's not often these days we get a chance to really get off the beaten track. Well I'm lucky enough to be doing just that. I'm visiting the Faroe Islands, having been asked to give some thoughts on how this group of 18 islands could market themselves more effectively. First question a number of my friends ask is 'where are the Faroe Islands exactly?' Some even mistakenly think its somwhere down by the Falkland Islands. Well no, there is no imminent threat of invasion by Argentina – not unless the Argentine army gets particularly badly lost. The Faroes are actually located midway between Norway, Iceland and the tip of Scotland, in the middle of the Atlantic. Indeed it's the rugged location that has made this place what it is. Flying into the small but modern Vagur Airport you're treated to a close up view of fjords, mountains and small remote coastal villages. It's thrilling. And nothing pepares you for the freshness that hits you the moment you step from the plane. You realise you are really in the mid atlantic.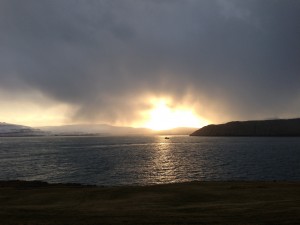 One of the charms of the Faroe Islands is the down to earth nature of the place. My hire car was rented through a smaller local company and after having made payment online (actually via paypal) I was sent a mail telling me my car would be in the short term car park, keys in the glove box and good luck! As I said charming. The drive to Torshaven is dramatic, full of mountain passes and deep subsea tunnels. The engineering alone is impressive. The scenary on the drive is ever changing as is the weather and the light. Thankfully the roads are good and within an hour I arrive at the best hotel on the islands, the Hotel Føroyar, which also happens to have the best restaurant on the Faroes as well-
Koks
. On my second night I'm treated to a truly stunning eight course meal (four starters, two main courses and two desserts) and each course is accompanied by carefully chosen wines and even a beer. If you visit the Faroe Islands, you don't need to eat poorly. Art, culture and music is a big topic in the islands. Check out the G Festival, which is held every July and billed as the most unique music festival on earth. If you get a chance take some time and listen to the music of
Eivør Pálsdóttir
and
Gudrid Hansdottir
. Enchanting. So how would I sum the Faroes up? Well firstly it's a lot closer than you think. It's just a two hour flight from Copenhagen airport, with the local airline Atlantic Airways. In terms of what the Faroe Islands offer, it's a place that goes beyond the imagination and senses. It's special. Worth a visit? Absolutely.